Psychology 117, Spring Quarter 2023
NOTE: The number of students who've already inquired about enrolling in the course has greatly exceeded our maximum enrollment for the quarter, so we won't be able to accept any new applicants for our Spring 2023 course.

If the PSYC 117 course is offered next year, it will be in the Spring '24 quarter.
Created as part of a partnership between the UCSD Department of Psychology and multiple schools and community organizations in San Diego County, PSYC 117 was designed to provide undergraduate students with the knowledge and skills needed for careers as teachers and education researchers — covering topics such as cognitive skill acquisition, evaluation of different educational methods, and examination of the factors by which classrooms and afterschool programs can best be tailored to the needs of children, families, and communities.
In normal years, students in PSYC 117 would also assist with an afterschool education program for children in East County, San Diego. Unfortunately, due to COVID, we won't be able to restart our outreach programs this year, so students in this Spring's course won't be able to work with the kids at our East County partner site. Although the content of the course will need to be modified, we're determined to remain true to the spirit of PSYC 117. By the end of the course, PSYC 117 students can be confident that they will have new insights regarding many fundamental issues faced by youth educators — issues such as: How can you present educational materials in a way that children will find interesting and engaging? How can you help resolve a conflict between two (or more) kids? How can you help ensure that the kids all feel they are being treated fairly? As well as many other topics and issues that can be challenging even for experienced teachers!
As part of this, the PSYC 117 course has a strong focus on cutting-edge education research, and provides students with a solid foundation for work not just as future teachers, but also as education researchers. Topics here include advanced usage of psychology and education research databases and information resources, analysis of research articles, and formal APA Style research writing.
In regard to coursework, there will be reading and writing assignments due each Monday, Wednesday, and Friday throughout the quarter. In addition, we'll have online class meetings each Friday from 3:00-4:20pm. Class discussion and student presentations are an important part of these meetings, so synchronous class attendance is mandatory.
If you are interested in joining the team, or if you'd like additional information, then contact the course instructor, Dr. Daniel Bajic, at YouthScience@ucsd.edu
Be sure to include "PSYC 117" in the subject line of your email.
---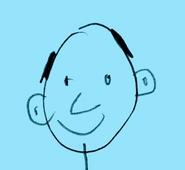 Dr. Bajic, as drawn by one of the children.